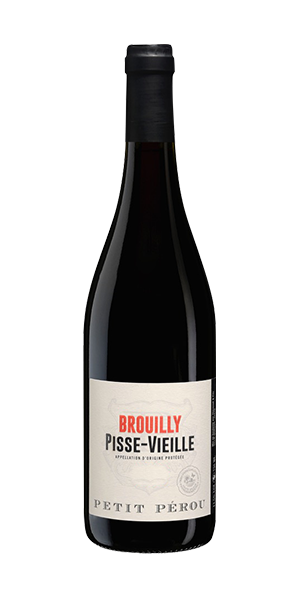 Brouilly
Pisse Vieille
Tasting
The climate of Pisse Vieille is a privilege given to a hillside of 22 hectares, facing south and located between 400 and 500 meters above sea level, on a rich soil composed of clay, limestone and granite decomposition. It is the only climate officially recognized by the INAO of the appellation of Brouilly which has 1300 ha, spread over 6 communes of Beaujolais.

Piss old, the priest said it!

This climate with such a special name owes its reputation to a legend, that of a very pious winegrower who went regularly to confess to confess only banal unimportant faults. The priest of Cercié (one of the communes of the Brouilly appellation), no doubt overwhelmed by this almost weekly repetition, admonished him one day very nicely: Go! And do not fish anymore! But our old lady was a bit hard of hearing. She heard: Go! And do not piss! It must be said that in Patois Beaujolais, fishing is said to piss. We can easily imagine the rest. The old woman was relieved of her ordeal only when her husband, anxious, went to see the priest for an explanation. Back home, he shouted from the bottom of the hill: Old piss, old piss, the priest says it! Thus was baptized the locality.
Service
This generous and elegant wine will accompany your filet mignon pork crust, veal liver or beef bourguignon.
Information sheet

Appellation: Brouilly
Cuvée: Old Piss
Varietal: Gamay

Dress: Ruby
Nose: Fresh fruit, beautiful elegance.
Palate: Aromas of raspberry and blackberry, supple and balanced palate.

Serving temperature: 14 ° C

Food / wine pairing: Pork tenderloin in crust, veal liver, beef bourguignon

Length of stay: 3-5 years
Awards
Saint-Vincent Mâconnais-Beaujolais > Médaille d'argent : Brouilly 2017
Wine Enthusiast 87 > Brouilly 208
Wine Enthusiast 87 > Brouilly 2020
James Suckling > Brouilly 2021 89/100