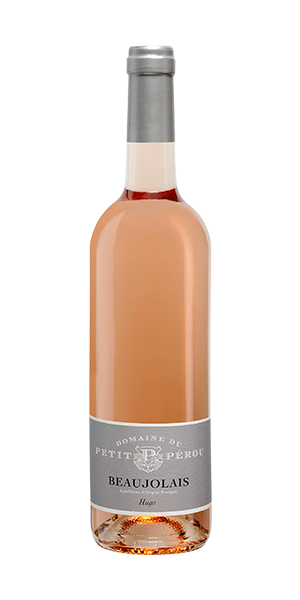 Beaujolais Rosé
Hugo
Tasting
Our wine here combines suppleness and roundness, with a fresh finish and an acidic grenadine predominating.
Salmon-pink in colour, with a harmony created between hints of citrus fruits and white peach. The light palate, full of finesse, reveals a delicate, refreshing wine. This is an authentic, convivial wine.
Service
This wine will readily accompany all your dishes, salads, grilled meats, BBQ, seafood, puff pastries, or simply as an aperitif.
Information sheet
Appellation: Beaujolais rosé
Batch: Cuvée Hugo
Grape variety: Gamay

Colour: Pale and shiny pink.
Nose: Freshness, apricot, white peach, notes of acacia.
Palate: Fresh and crunchy palate, passion fruit, lemony notes, subtle persistence.

Serving temperature: 10-12°C

Serve with: salads, BBQ, puff pastries.
Awards
Wine Enthusiast : Beaujolais Hugo 2018 (87/100 Roger Voss)
Gilbert & Gaillard > Médaille d'or : Beaujolais Hugo 2019 (86/100)
Wine Enthusiast : Beaujolais Hugo 2018 (87/100 Roger Voss)
Selection de Montmarte Paris > Gold medal : Beaujolais rosé 2020
Selection de Montmarte Paris > Gold medal : Beaujolais rosé 2021